Demos by Design is passionate about helping your brand increase awareness and sales. Our mission is to promote and partner with brands that are committed to creating delicious and health conscious food and equally focus on strong social awareness.
We Place Your Product into your customer's hands.
Our brand ambassadors are foodies and committed to health and wellness. Not only are they passionate about your brand, its history but they are also superb in-store marketers and results oriented sales people.
Contact us to further enhance your brand's journey in-store, at trade shows, festivals and anywhere else your brand needs to go.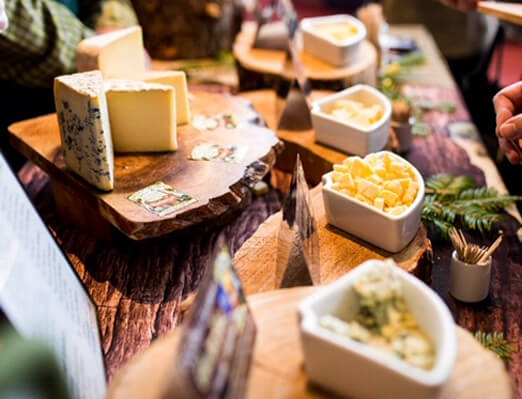 Realtor
"Monika did a superb job of organizing tasting events for our VIP clients at Remax. Her attention to detail and organization of staff made our event a huge success."

Director of Operations
"Monika was highly organized and eager to develop and grow alongside the festival with the brands that she represented."

Cofounders
"I highly recommend Monika at Demos By Design for any type of in-store samplings, festivals and trade shows. She is extremely professional, methodical and goes the extra mile voluntarily."

National Sales Manager
"Working with Monika at Demos By Design has been a great partnership. Her ability to execute demos from concept creation to execution brought our demo program to life"
Target
Customers

Increase Brand
Awareness

Promote on Social
Media

Increase
Sales

Increased
Efficiency
We Design your Demo Strategy to Complement your Brand's Vision
Today's specialty food brands need to be so much more than just delicious. They need heart, authenticity, and strong values that relate to all consumers. At Demos by Design we ensure that your brand's values connect with your customers. We work with your marketing team to understand how to communicate your brand's vision and story. We then custom design your demo program based on your brand's vision and marketing specifications to ensure optimum results for sales and brand awareness.
We are Passionate about your Brand
The coordination of your demo programs involves many different moving parts such as inventory confirmation, marketing collateral, training of Brand Ambassadors, supplies for demos and coordinating with retail stores. We manage all of this for you to maximize impact, efficiency, and results. Our highly trained passionate and knowledgeable team delivers on-point creative and engaging events to create memorable connections for your customers. We ensure that your demos are targeted and become an integral part of your brand's journey and marketing roadmap.
Successful In-Store Food Sampling & Demos
Successful food sampling programs can boost sales, educate shoppers, and build community support for your brand and your retailers. Your customers will enjoy the free sample, the friendly smile and the pleasant platter that helps them understand the product and your brand's story. Putting on a successful food demo is a little like throwing a party to celebrate your customers.
We develop your program with careful planning and coordination to allow your guests to enjoy an amazing, experience focused on your brand.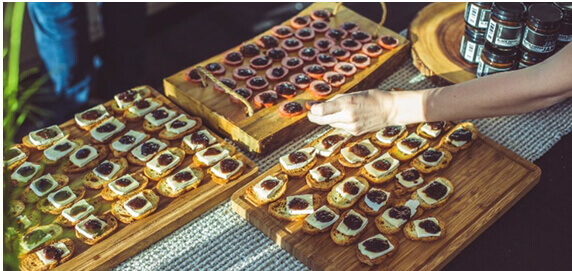 Your Brand Front and Center
At Demos By Design, our primary goals are to increase sales and increase
shopper knowledge.
Here are some ideas around building your Demo Program:
Popular items: to build on success of an already popular item
New items: to provide shoppers with a low risk and easy way to sample new items
Seasonal: sweet corn in August, champagne in December, etc.
Nutritionally superior: to educate the customer about health building foods
Abundant: to help move a well stocked item out the door
Featured item: to draw attention to product featured in advertising
Promote a storewide marketing food theme – eg. "Buy Local Week"
Fun foods at predictable times: to build camaraderie between store and customer, for example "Happy Hour" from 5-7 on Fridays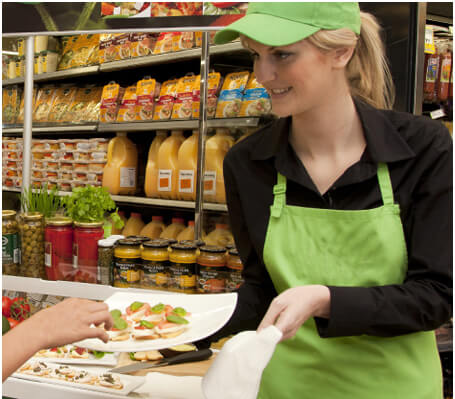 Another goal of in-store sampling is to provide enjoyable human interactions. Don't underestimate this one! Even the busy person who dashes past with a shake of the head likes being invited. Almost everyone is flattered that you would offer to help them build their health or to expand their menu. And for some folks, the chance to snack and visit with you may be the highlight of their day!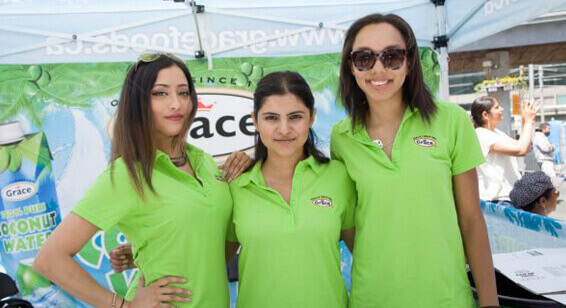 We are an Extension of Your Team
At Demos by Design our in-store sampling strategy works with your marketing strategy to convert consumers into customers. We become an extension of your marketing team. We implement and track key details about the demo and ensure we convert potential customers not only into actual customers but also independent brand ambassadors to share your brand's story with their network of friends and family. These become word of mouth ambassadors who will spread your brand through their passion for your product alone. We ensure your program with us can be an exponential growth strategy for your brand.
Did We Say Social?
You crafted your brand, so let us help craft your demos. We love to share your stories and the demos we do on social media. The social interactions we create by sharing your brand with the world online combined with our passionate demos are a proven recipe for your brand' success.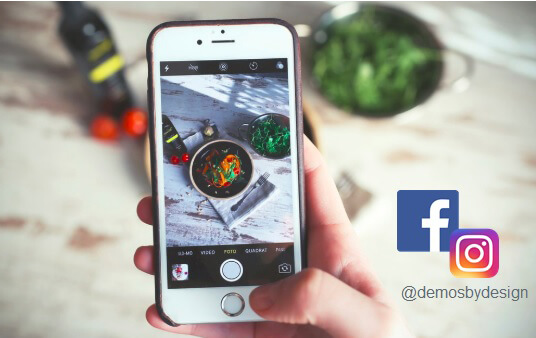 Demo Strategy and Onboarding: We work with your marketing team to immerse ourselves into your brand's story and vision. We then develop a program that is on point and on budget. A key part of our onboarding process is that we train our team of Brand Ambassadors who in turn educate consumers to be your brand advocates.
Pairing Partnerships: Do your nutty and natural crackers pair well with organic cheese? Well we know that pairing food and beverages can further entice customers to buy your products. Our pairing partnerships can be a great way to showcase your brand and lower your average cost per demo
Coordinating and Scheduling: We work with your marketing team and retailers and distributors/brokers if required to develop demos that are engaging, enticing and leverages peak timings and discounting to provide optimum results.
Professional and Engaging Setup: Our BA setup matches your vision and is engaging and highlights your brand story and attributes.
Generating Reports: We provide a detailed demo report containing photos of the demonstration table and product displays, inventory levels, customer feedback and sales. 
Taking Photos: You will be provided with photos of the demonstration table and product displays.
Meeting Special Requirements: If your product or the store requires special cups, eco utensils, servers, produce garnishes, breads, crackers, or accompaniments, we will be happy to purchase upon request and add to your invoice. 
Invoicing: We will submit an invoice to you on a monthly basis
Special Events & Festivals:  We are available for food/trade shows, festivals, wine/beer tastings and merchandising projects.
Our brand ambassadors serve as the face and voice of your company, building brand recognition to successfully promote your products and services. Demos By Design's brand ambassadors communicate and engage with your customer base in meaningful ways that increase your company's brand awareness and presence.  
Our BAs have worked with local, regional and national brands to extend reach to their target audience through custom, tailored and memorable experiences. Our BAs also embrace technology to engage and captivate your customers, generate social buzz, brand engagement and loyalty.
At the Demos By Design we pride ourselves in providing a rewarding, fun and career orientated work environment to help our team flourish. Our BAs are foodies, health and wellness advocates and have a passion for natural and organic brands. We are committed to ensure that our BAs are exceptional and passionate about the brands they promote.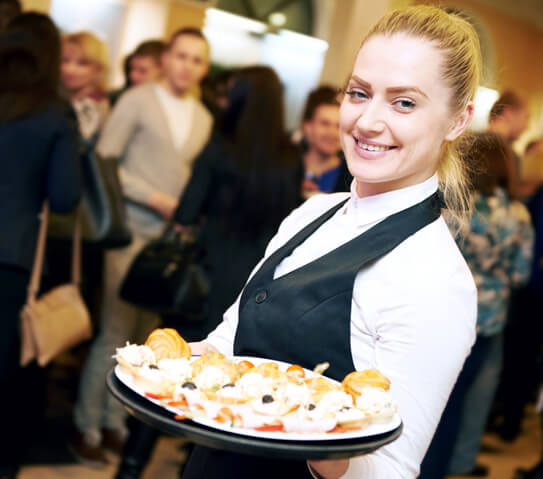 Book a Demo
Please fill out the form below and we will get in touch with your shortly.
We can also be reached at sales@demosbydesign.com
Join Our BA Team
Please fill out the form below and we will get in touch with your shortly.
We can also be reached at sales@demosbydesign.com